I love Shutterfly!

I have used it and loved it since before my first child was born almost 5 years ago, so when I had the opportunity to blog about Shutterfly and share my experiences, I was happy to do it!

Shutterfly is easy to use and a wonderful place to store and print those precious family memories.

I have gone to Shutterfly for so many occasions:

photo books, birth announcements, birthday invitations, thank you cards, calendars, photo gifts, and of course picture prints.

Every year at this time, I start examining every picture I am taking…will this one be cute enough for my Shutterfly Christmas cards?

Can I use this one in my personalized calendar?

Part of the joy of using Shutterfly is that you can be so creative with so little effort…and it looks so good!
Shutterfly has so much more than just holiday cards.

One thing I am known for within my family is the family calendar I do every year as a gift for family members.

I compile pictures from my kids and also from my sister's children and dump them into Shutterfly's calendar program.

I do spend some time arranging the photos, but not nearly as much time as it looks like it took!

I love it because I can have several projects going at once, for different family members.

When complete, I can have them shipped directly to the recipient with a gift note…done!

And it is a very personal gift for each person.

Of course, I have to order one for myself as well!
This year I am excited about our Christmas cards.

I can't always decide which design to use, so sometimes I experiment with different options.

I am often torn between traditional colors and funky mod holiday designs.

In the past, I have gravitated toward the flat holiday photo cards, but this year I am excited to try the folded stationery cards!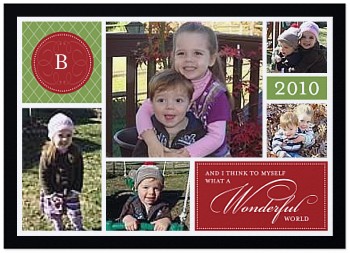 With Love Chartreuse Christmas 5x7 folded card
Since I am a procrastinator, it is good to know that even though it is first week of December (can you believe it?), I still have plenty of time to get those cards, calendars and gifts finished.

They have a handy shipping chart that tells you exactly when you need to place your order to have your various products or gifts shipped in time for the holidays.

If I am really pressed for time, I can have Shutterfly address my cards and mail them directly!

Check that off the to-do list!

Wahoo!

Thank you, Shutterfly!
This week Shutterfly has some AMAZING discount offers on photo books, holiday cards, calendars and more! Plus free shippiing on orders of $25 or more (code: SHIP25).